Zeroarc® - for medium to high voltage cable solutions
Zeroarc® is a ground-breaking insulation system that allows us to create compact, medium to high voltage cable solutions.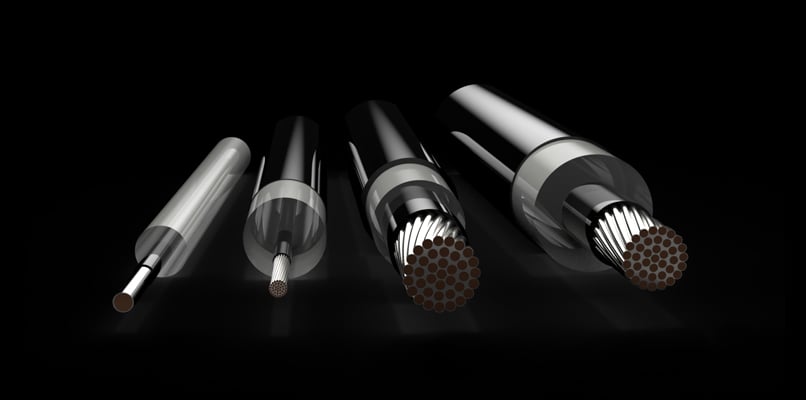 Cables created using Zeroarc® consist of multiple layers of modified fluoropolymers, free from air gaps and impurities. The result is cables without partial discharges, and with superior electrical, thermal, chemical, fire and mechanical performance. With Zeroarc®, we can create never-before-seen solutions to solve previously unsolvable challenges for our customers. The technology makes it possible to develop new solutions in subsea, aerospace, defence, scientific and medical equipment, and more.
Zeroarc® technology highlights
Cable solutions created using Zeroarc® have many features that enhance reliability, performance and safety, including:
Operating voltage of >10 kV AC and >50 kV DC depending on design
Operating temperatures from -200°C to 260°C for medium and high voltage cables
100% free from corona and partial discharges, even in low pressure environments
Compact design and reduced size, allowing for more power per mm2
Superior resistance to fire, chemicals and mechanical stress
100% quality assured
Zeroarc® cable solutions are manufactured within our dedicated, state-of-the-art facilities and handled with extreme care from start to finish. All products are subjected to in-line manufacturing control, and go through high voltage and partial discharge tests for full quality assurance.
A field-proven technology that's already driving results
After developing and testing this technology for several years, Zeroarc® is now a fully industrialised technology that has already been used to manufacture millions of metres of wire and cable. During this time, we have also developed proven solutions for splicing and connectorization. Our unique Zeroarc®-made cable solutions are currently in operation in many applications, including:
Medium voltage heating cables for long distances and subsea applications
High voltage power cables for aerospace and defence applications
High voltage cables for scientific and medical equipment
Medium voltage winding wires for electrical motors in the megawatt range
What other types of solutions can be developed using Zeroarc®?
This technology allows us to create new solutions in the medium to high voltage range, no matter the industry or application. Using this unique insulation system, we can ensure superior performance and unlock new opportunities for our customers.
Zeroarc® is ready to improve the performance for an infinite number of applications - all the way from the seabed to the stars.