Hybrid cables
Whether industrial robots, machine tools or medical equipment for patient care – nowadays operational processes demand a multitude of electrical cables in the smallest of spaces. In addition to the classic power line, there is a need for data lines such as control lines, servo lines, BUS lines or signal lines.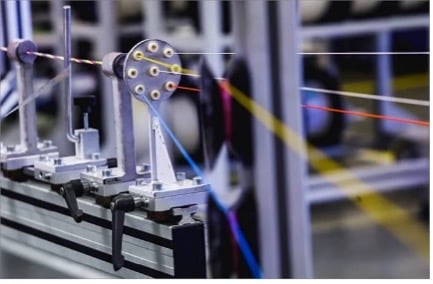 Instead of handling different individual cables, our hybrid cables enable multifunctional combinations of different types of cables under a common sheath. Thus, for example, energy, optical and electrical data, signals, gases or liquids can be transmitted simultaneously in a hybrid cable specially designed for you.



Why Hybrid Lines from Habia?
Because our solutions reduce your costs but increase performance.
Due to the intelligent combination of power lines with data lines, control lines or signal lines, there are immense advantages for your company. This not only saves material during production, but also space and working time during assembly and installation.
In order to provide a fail-safe function over the entire life cycle, both the structure of the hybrid cable and its choice of materials are precisely matched to the intended use.
Advantages at a glance.
Optimised system costs
Space-saving solutions
Time-saving assembly
Longer service life
Reduced maintenance and repair times and costs
Internationally United
We manufacture our cables to the highest standards and ensure compliance with standards, safety regulations and manufacturer specifications.
This means that our hybrid cables can not only combine different functions, but also meet the criteria for various national and international approvals, such as the combination of UL, CSA and VDE approval.
Ready for Maximum Use
Whether for fast connection of industrial robots, processing and machine tools or for use in medical technology – our hybrid cables offer both the trouble-free and fail-safe combination of power and media supply as well as data transmission.
Depending on the application and requirements, our hybrid cables are resistant to the following:
Mechanical effects such as bending, friction, vibration and torsion
Liquids, oils, greases, chemicals, disinfectants
Heat and/or cold
Flames, flying sparks
Electromagnetic disturbances
Effects of environmental factors, e.g. UV radiation
Hydrolysis and microbes
as well as ...
Halogen-free
Flame-retardant
Self-extinguishing
Surface finished
Sterilisable
Biocompatible
Almost adhesion free
Ezplore more at HEW-Kable website