Custom coiled cables, or spiral cable solutions
Coiled cables (also known as spiral cables) are characterised by their spring-like shape, that can be used to transmit power, data and more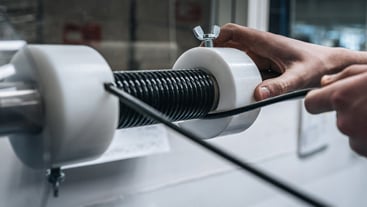 As well as being visually appealing, the spring form of coiled cables allows them to be extended and retracted repeatedly without causing damage to the wires inside - a perfect solution for connecting free-moving parts or objects.
At Habia, we use custom coiled cables in many of our cable harness designs, for applications such as communication headsets, extendible radio masts or in the connections between trucks and trailers.
Whatever you need when it comes to the spiral dimension, cable length or material, we have the equipment and expertise required to solve your challenge. We can provide either a complete product with assembled connectors, or just the coiled cable itself.
Do you have an application or product with specific cable size or performance requirements? Contact us today to discuss your ideal coiled cable solution.