Miniature cables
In the course of technical developments, a clear trend towards miniaturization is emerging. Across all industries and applications, devices and components are not only becoming lighter and more compact, but also increasingly being equipped with more functions, electronics, sensors and capabilities for information processing.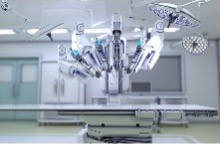 One consequence of these developments is the need for ever smaller cables in the face of simultaneously increasing demands on performance, reliability and mechanical robustness over long periods of time
We develope and produces application-specific miniature cables with cross-sections up to AWG56 (ø ≈ 0.0125 mm) as well as micro-coaxial cables up to AWG46 (ø ≈ 0.0399 mm).
What is barely visible to the eye has a lot going for it:
Designed as single cables or multi-coaxial cables, as ribbon or hybrid cables, our highly specialized mini-cables fulfil important functions, such as the absolutely reliable and interference-free transmission of various data in real time or the simultaneous transmission of data, light, liquids and electricity.
The use of high-performance materials and special alloys ensures mechanical robustness, while special shielding guarantees optimum EMC properties.
Miniature cables: The supreme discipline of cable production
Miniature cables have no room for error. The smallest deviations during production can have fatal consequences for later operation. Therefore, the production of miniaturized cables, especially in the field of medical technology, is subject to strict guidelines.
We are aware of the great responsibility we have and use only specially trained personnel, specially developed production equipment and methods as well as high-performance materials for the development and production of miniature cables.
In order to offer a fail-safe function over the entire life cycle, both the structure of each
micro cable and its material selection are precisely matched to the intended use.
Explore more at HEW-Kabel website