Lightweight marine cables
Halogen-free cables made to our DMFRO™ concept, ideal for cost-effective marine applications.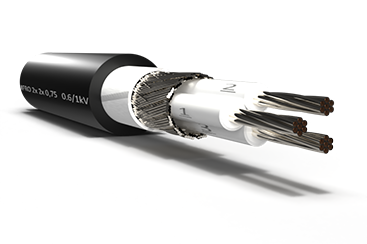 With their compact design and long operational lifespan, our lightweight marine cables are the ideal choice for cost-effective and high-performance marine and shipbuilding applications. Whether you're powering a speed boat, wiring marine instruments onboard a ship or building a diesel engine, we have the smart cable solution for you.
Marine power and control cables made compact
With advanced design technology and thin wall insulation, our marine and shipboard cables are lightweight and 30% more compact than an IEC standard cable. Reach the high levels of performance and reliability you need, while freeing up additional space in confined areas.
Halogen-free marine electric cables for a safer environment
In the event of a fire, using halogen-free (Low Smoke Zero Halogen) cables means there will be less smoke and no toxic fumes, offering protection for that which is most important – the safety of your crew and critical equipment.
The cost-effective choice for marine and ship cables
Thanks to the lower overall weight, our compact marine cables help reduce fuel consumption and improve efficiency, particularly in high-speed crafts. And with a long lifespan and lower maintenance needs, you can enjoy top quality and lower operating costs, for a better total operating economy.
Lightweight marine cable features:
30% more compact than an IEC standard cable
Flame retardant with a high temperature range: -40ºC to +135ºC
Halogen-free materials - low smoke, zero halogen (LSZH)
International marine-grade certifications and industry approvals
Rugged properties and high resistance to diesel fuels and oils (to NEK TS 606 specification)
An ideal solution for use in marine engines
Marine cable solutions tailored to your needs
Our marine and shipboard cables are available from a standard range, or as a custom solution that can be tailored for your specific application and needs. Hybrid solutions can also be provided on request.
Explore our product range in more detail below, or contact us to discuss your ideal marine-grade cable solution.
Explore more details in the product data sheets in
Document downloads
Approvals
DNV
ABS American Bureau of Shipping
BV Bureau Veritas S.A.
CCS China Classification Society
LR Lloyds Register
NK Nippon KaijiKyokai